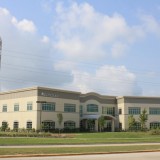 Construction Masters of Houston, Inc., is a privately owned, mid-size general contracting firm based in Pearland, Texas. Robert Campbell started the company in 1987 with the belief that honesty, integrity and reliability would be the key elements to providing the Greater Houston Area with general contracting and construction management services.
Justin Davis joined the company in 2007 and began running operations. He grew the firm from five employees to 20, and in 2019, purchased the company. Taking over the helm as Owner and President, Justin stays committed to the long standing core beliefs of Construction Masters.
Constructing buildings is a passion of ours and we do not take the responsibility of quality and customer satisfaction lightly. We have dedicated our careers to cultivating relationships, beyond the responsibilities of constructing a building, so that an organization's mission, culture and values are encompassed.
Our ability to produce a quality product, in time and on budget is a direct reflection of the relationships we build and respect earned with our subcontractors and vendors. We treat our partners with the same honesty, integrity and reliability as we do our clients; in-turn we require their commitment to our philosophy on the job.
The respect built leads to a cooperative partnership, between the design team, general contractor, subcontractors and vendors. This partnership establishes a common goal of designing and building a project that meets and exceeds the client's monetary and functional goals within the time frame established.
read more